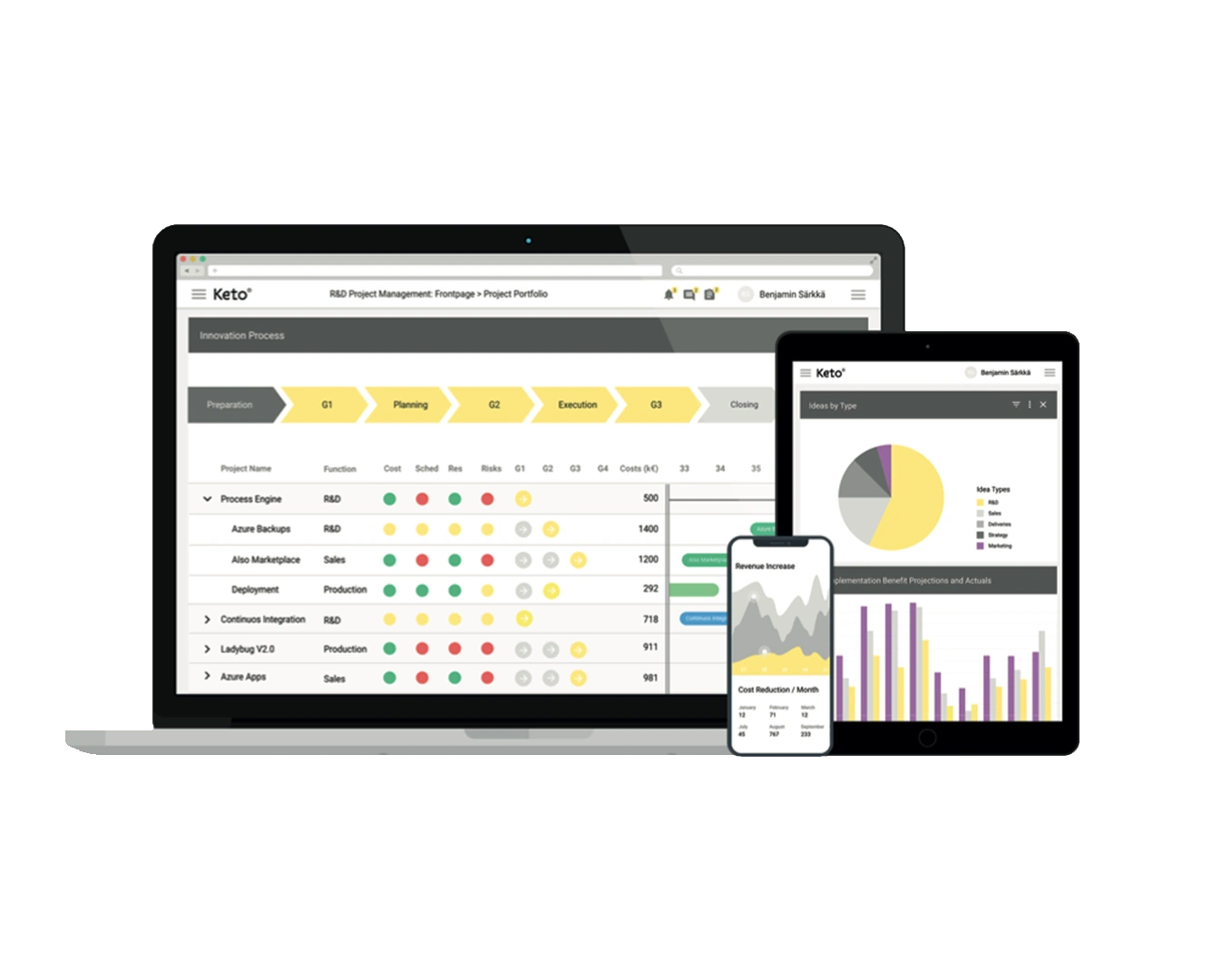 Keto AI+ Platform Overview
Keto Platform is an all-inclusive Strategic Portfolio Management tool that empowers organizations to manage their strategic initiatives more effectively. The platform combines advanced analytics, no-code process modeling, and a secure enterprise cloud platform to deliver a comprehensive solution for managing strategic goals. Let's delve into the features that Keto Platform offers: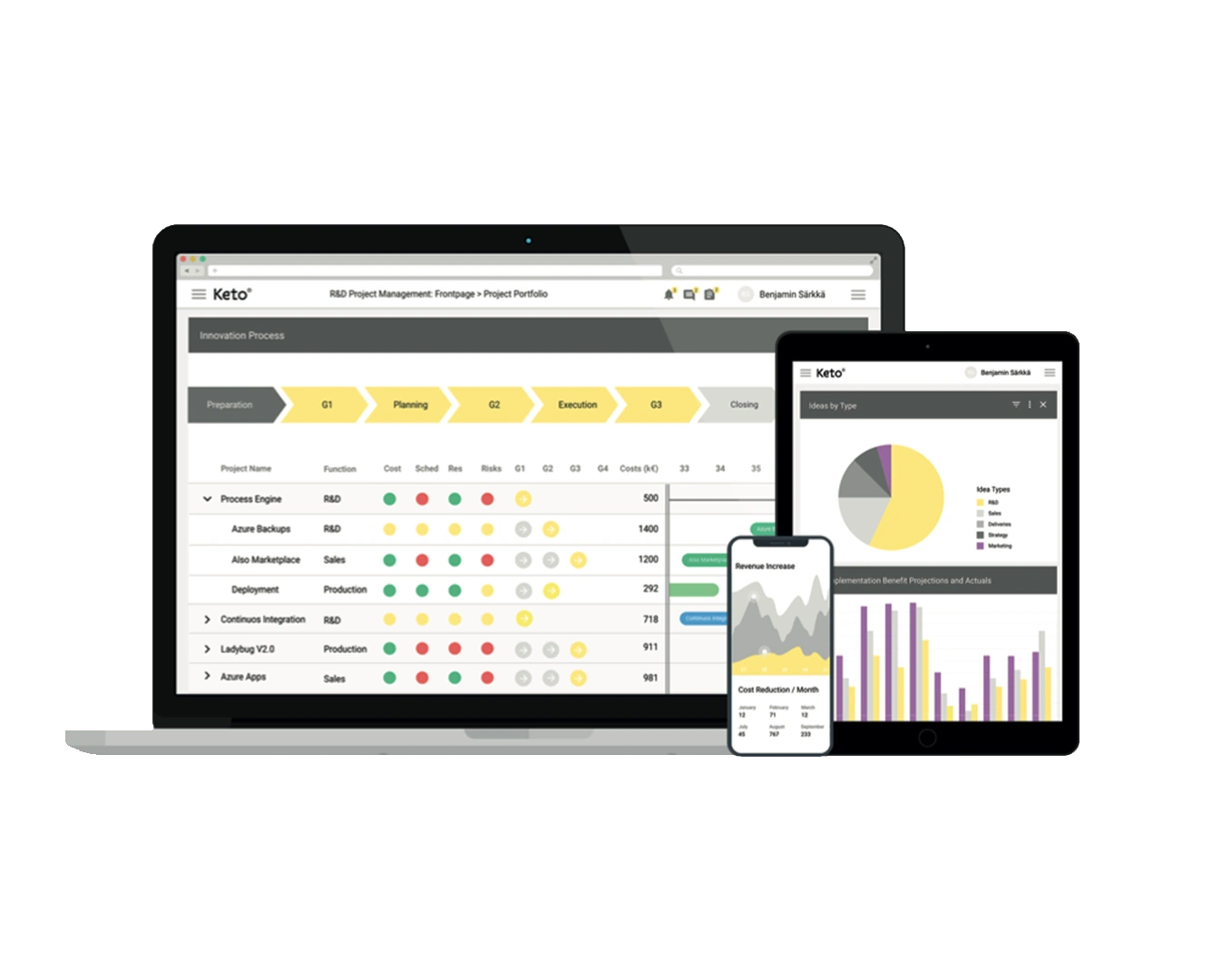 Strategic Insights and Reporting
Keto AI +Platform delivers in-depth strategic insights and reporting, providing users with a complete view of their strategic portfolio. Stunning infographics and advanced analytics enable users to explore their data with drilldown functionality, employing visualizations such as SanKey, HeatMap, Dependency Maps, Line, Bar, and Bubble charts. The Portfolio Kanban feature facilitates portfolio funnel lifecycle management on an Agile Kanban board, while the Roadmap and Portfolio Timeline View features help users visualize their portfolio and monitor progress over time. Keto's advanced what-if and prioritization features enhance planning and decision-making. Users can also generate customized Excel, Word, and PowerPoint exports based on their templates.
No-Code Process Modeling
The no-code process modeling engine in Keto Platform allows users to control strategic initiatives' flow and access data from various sources. Organise information and filter it based on multiple parameters with features like tabs, containers, and data fields. Financial management capabilities enable users to categorize financial figures and track budget, forecast, and actual expenses. The Tasks Timeline feature aids in managing the strategic initiative's timeline, dividing it into phases and sprints for financial and resource management. Resource Management offers advanced functionality for allocating project work, selecting resources based on competencies, and managing resource allocation approval processes, including hour recording. Evaluation Matrices support early evaluation of strategic initiatives, providing quantitative feasibility and desirability scores for informed decision-making. Keto Platform also incorporates Language Model AI frameworks to improve or generate qualitative content during different process lifecycle phases.
Enterprise Platform
Keto Platform, an ISO 27001 security certified enterprise-level cloud platform, offers a variety of features to enhance the user experience. Available in multiple languages, users can choose their preferred language. Keto Platform records all user changes, enabling auditing, history tracking, and logs that showcase the strategic initiative's evolution throughout its lifecycle. The open REST API simplifies integration with other systems and adapts to specific needs. SSO and MFA ensure secure user authentication, and user identities and privileges can integrate with the organization's Identity Management System (AD or O365). Background processes can be used to trigger timed actions like integrations or email notifications.
Keto Platform is a robust tool that equips organizations with advanced features. By offering comprehensive AI powered analytics, no-code process modeling tools within an enterprise platform, Keto Platform streamlines the strategic planning process, helping organizations achieve their goals more effectively. With its intuitive user interface, powerful reporting, and user-friendly features, Keto Platform is the ideal choice for organizations seeking to enhance their Strategic Portfolio Management capabilities.
Read next