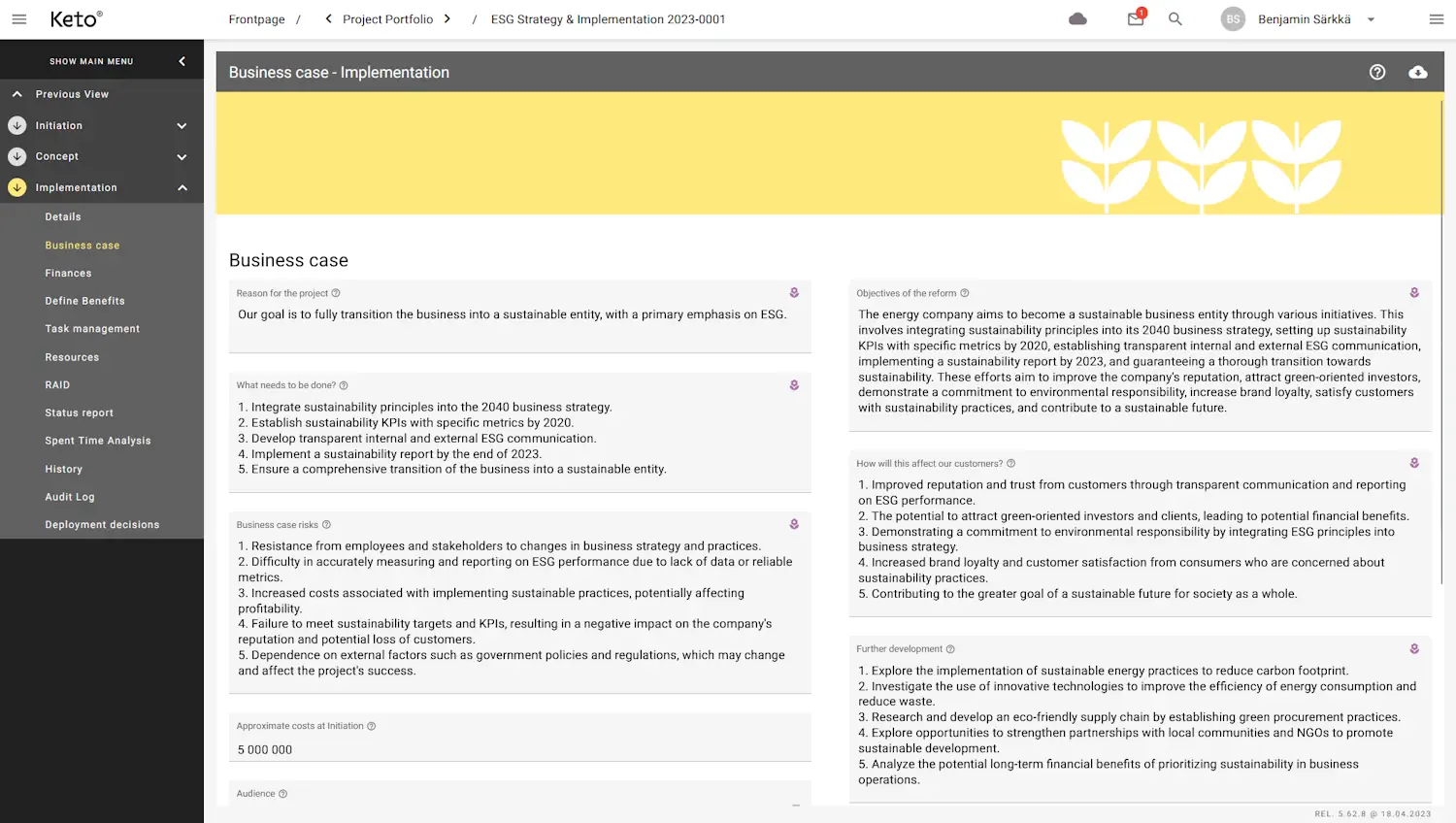 Managing ESG Compliance with Keto AI+ Platform
Environmental, social, and governance (ESG) factors have become increasingly important for organizations as they seek to align their operations with sustainable and responsible practices. Keto Software's platform can play a key role in supporting organizations' ESG efforts by providing tools and features that enable them to integrate ESG considerations into their strategic decision-making processes.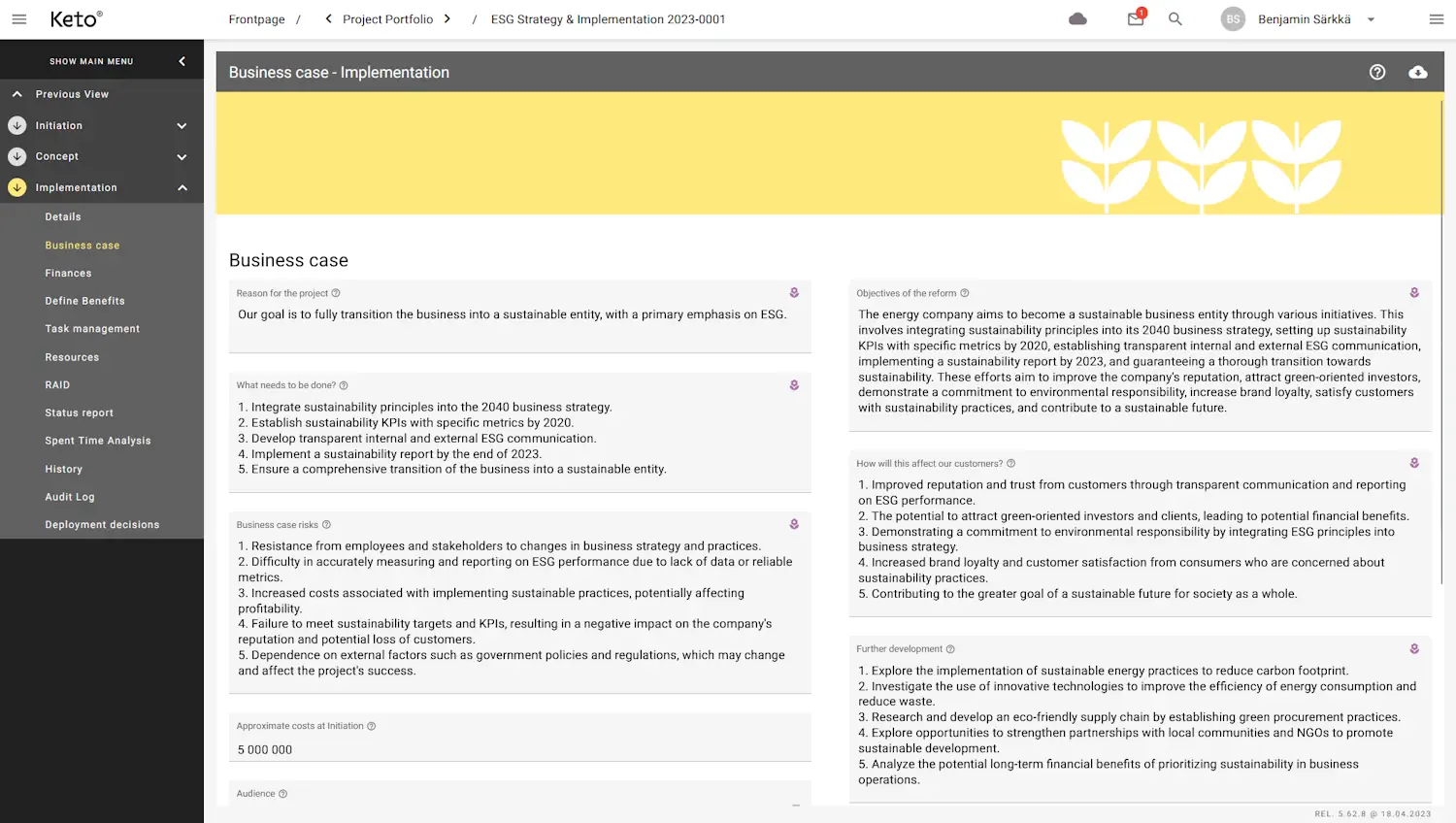 As environmental, social, and governance (ESG) issues continue to grow in importance for businesses, it is essential to have a solid strategy in place to manage ESG compliance. At Keto Software, we understand the importance of ESG compliance and have built a platform that can help our customers manage their ESG initiatives effectively. Keto AI+ Platform is designed to be flexible and easily customizable to meet the unique needs of each customer, including their ESG compliance requirement. With our no-code platform, customers can easily create custom workflows and processes to manage their ESG initiatives without needing to rely on technical expertise. 
Open larger image here.
Keto AI+ Platform is designed to meet your unique requirements
One of the key features of our platform that can help customers manage their ESG compliance is the use of Objectives and Key Results (OKRs). OKRs are a goal-setting framework that helps companies align their strategic objectives with measurable results. By using OKRs, customers can set specific ESG goals and track their progress over time, ensuring they are meeting their compliance requirements.
Our platform also provides a range of tools and features to support ESG compliance, including:
Risk Assessment: Our platform enables customers to assess and manage their ESG risks effectively. With our configurable risk management module, customers can identify and prioritize their ESG risks and develop mitigation plans to address them.

Compliance Monitoring: Our platform provides real-time monitoring of ESG compliance metrics, enabling customers to track their progress and identify areas where they may need to make adjustments to meet their compliance requirements.

Reporting and Analytics: Our platform provides powerful reporting and analytics capabilities to enable effective ESG compliance management. This includes the ability to generate custom reports and dashboards to track performance, identify trends, and make data-driven decisions.

Collaboration and Communication: Our platform also provides robust collaboration and communication tools to facilitate effective ESG compliance management. This includes the ability to assign tasks, share documents, and communicate with team members in real-time.
ESG is in our Customer's core
ESG compliance is a key consideration for businesses today, and Keto is committed to supporting our customers in this effort. With our no-code platform and OKR capabilities, we provide a flexible and customizable solution for managing ESG compliance, enabling our customers to achieve their goals and drive sustainable growth.
A good example is our long-term customer Wipak, a global supplier of packaging solutions and services for food products as well as for medical devices and pharmaceutical products. Wipak is aiming to be carbon-neutral by 2025 and  to become the world's most sustainable packaging company. Their R&D uses Keto AI+ Platform globally to manage the develompent processes. Read the customer case here.
Our customer Alpiq is a leading Swiss energy services provider and electricity producer in Europe. Alpiq uses Keto AI+ Platform to manage their project portfolio management. Alpiq's IT Enterprise Project Management Officer has stated, that:
"Thanks to the tool, we are now able to manage projects and resources in the portfolio and track and measure them transparently and in real-time."
Discover here, how Alpiq has gained transparency throughout the company and taken steps forward in their project planning since implementing Keto AI+ Platform.
Also Fortum Recycling & Waste uses our Platform to manage their most important business goals and development. Heidi Perctold, Manager, Strategy and BI says:
"Our project managers and teams were doing great things and working really hard, but we had the potential to make even better strategic portfolio decisions and bring more transparency to our project portfolio. It was also important that the tool would allow us to connect the portfolio to our strategy. The tool should provide management, program, and project owners and steering groups with an overview of all projects and their progress and how they are related to each other."
Read below Fortum Recycling & Waste case study.
Read next