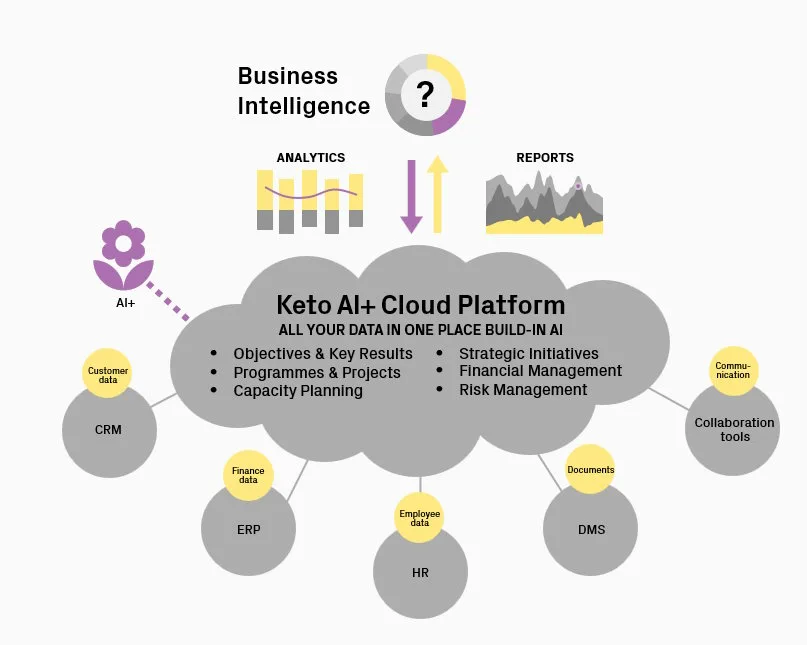 Integrations
Keto AI+ Platform is a modern business technology designed with easy integrations to adapt to your company's IT architecture, based on your changing needs.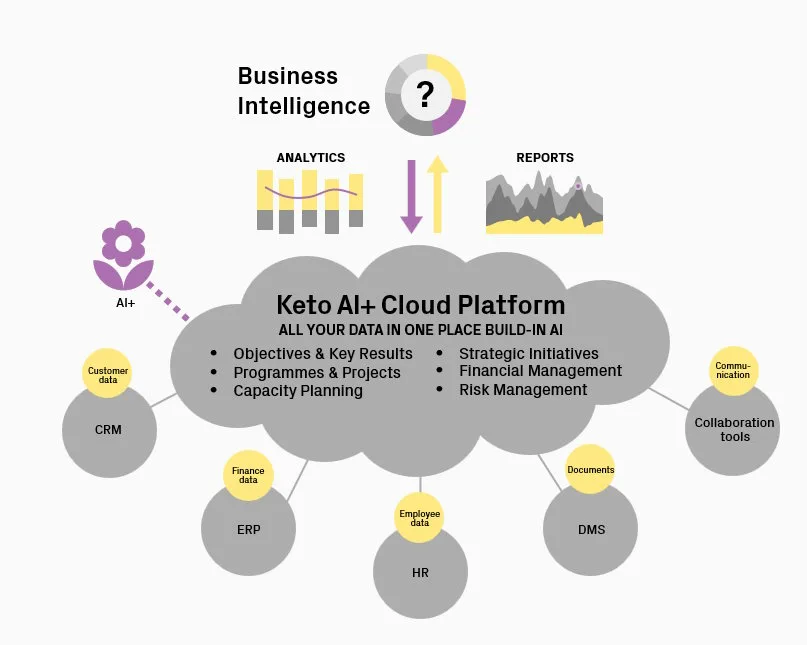 Integration Capabilities of Keto AI+ Platform
Keto AI+ Platform is a cutting-edge business technology designed for seamless integration, adapting to your organisation's IT architecture as your needs evolve.
Easily compatible with a variety of business tools, Keto AI+ Platform integrates with:
Financial management systems such as SAP, Xero, Netvisor and Procountor
BI tools like PowerBI, Tableau, and QlikView
Collaboration tools, including JIRA, Trello, and MS Teams
HR systems like Workday, SAP,

PeopleSoft

and

Oracle Human Resources

CRM systems such as HubSpot and Salesforce
Document management systems like MS Teams and M-FILES
Open API Integration methods and interfaces
Secure connections for reading/writing data are provided through REST/JSON API
Process hookups enable automatic REST triggers to send JSON messages to external APIs
Automated importing and exporting data from integration files (csv, excel, json, xml)
Email notifications can be easily automated for changes, alerts, summaries, etc.
Our clients also benefit from Keto Software's well-documented open API interfaces, enabling them to extract data from Keto and process it in other BI tools for comprehensive analysis or automate the sending of EPICs or features to specific JIRA projects for implementation while receiving updates on their progress. Custom solutions might be required, depending on the target system, such as accessing financial data in SAP. With over a decade of expertise in enterprise integrations, our professional services team is well-equipped to handle diverse integration challenges.
User accounts and authorisation: O365/ SAML 2.0 enables seamless SSO authentication
User identities, user metadata, and automated provisioning of user rights are streamlined with O365 integration, simplifying onboarding and offboarding processes while effectively managing roles and their associated permissions.
Read next