Keto has very intuitive and user-friendly user interface that don't really need any user training on how to use it. With the help of its low-code technology all unnecessary fields, features and steps can be hidden, and the process streamlined to best suit the users need.  Help and instruction can be embedded to UI to be available when help is needed.
Despite of this there are plenty of ways that more advanced users can get more out of Keto experience. Therefore, we are publishing this series of simple tips and tricks the some may already know from trainings or are all new to you. It's always good to refresh your skills.
Trick number 1: Split your screen and navigate
Keto is optimized to use your screen most efficiently as possible. The size of the screen may vary from mobile device to a 4k screens. In normal use this is very visible when you open items (for example tasks or risks) in desktop devices. Selected item will open to split view next to the view you opened if from (Keto Builders can set the split to open Even/Wide/Narrow width depending on the need). This way you do not need to move back if you want to open the next item or see the list of items.
Because of screen size constrictions, splitting the view is not possible in mobile devices and Keto will just open the item you select into the mobile device view. In mobile devices most users will use the browsers back function the get to the list and select the next item from the list. Trick for the more advanced users is to use the arrow in the tab title bar to quick jump to the next item. This is an easy way to browse through all items in the list.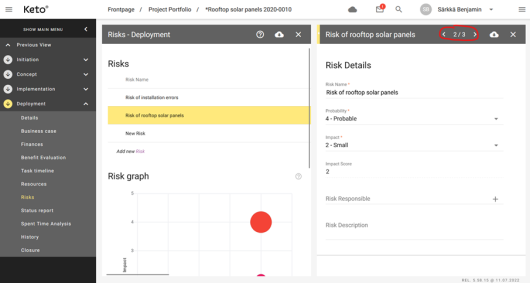 Trick number 2: Advanced splitting
Beginners or mobile users can use Keto with automatic splitting options that Keto Builders have set up for them, but there are more "hidden" splitting options in the UI that can be exploited. Advanced users can use the "three dot" ⋮ symbol in the left menu (visible when you move your cursor over the Tab of feature). This enables you to split any tab or feature you like next to the one you have already opened.
For example, you can view project details tab while you are editing the Business case Tab. Note, that if your desktop resolution is high enough you can even have 3 Tabs open at the same time. This is useful for heavy users of Keto. Every new Tab opens to left side but if you are not happy with the order of the tabs, you can change it by moving you mouse cursor over the little yellow area in the Tab header.